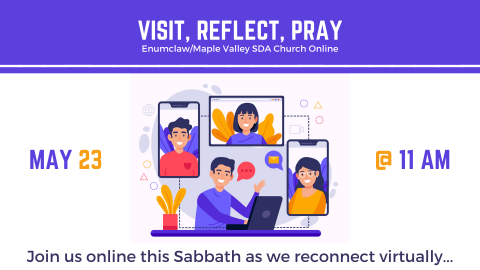 ---
Virtual Event Details
Sabbath May 23, 2020 - Pastor Ken Parker will be hosting a meet and greet session for the Enumclaw and Maple Valley SDA Churches. It's been approximately 2 months since we have met in person, and over the last 2 months we have not hosted any live streams, zoom meetings, or conference calls. This will be our first attempt to reconnect virtually in a live setting and we look forward to seeing you online.
Session Info:
Time - 11:00 AM
URL - Zoom Meeting - https://zoom.us/j/98195497210
Password - Enumclaw Members - refer to text or email from church  notification system.
Password - Maple Valley Members - connect with Pastor Ken or Church Elders
Format:
10:45 - Connect early if you want to test connectivity and work out any technical issues.
11:00 - Introductions / Socializing - How are you doing? What have you been up to?
11:30 - Devotional - Pastor Ken Parker
11:45 - Prayer - Submit prayer requests via Zoom Chat or share requests during the call.
12:00 - Discuss online church service options and when the best time to host the next service.
12:15 - Sign-Off